Falling forward: Balancing a full-time career with elite athletics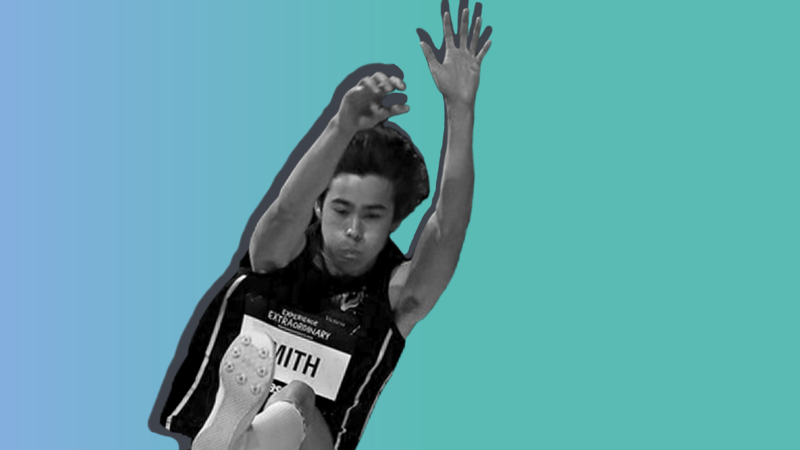 Beginning a full-time job doesn't mean giving up on your passions outside of work. Six Degrees Executive Talent Engagement Specialist Henry Smith is living proof of how working in recruitment can complement – and even benefit – an elite-level sporting career.
My name is Henry Smith and I lead a dual life.
My Double Life
By day, I'm a full-time Talent Engagement Specialist at Six Degrees Executive, but after work and on weekends I'm a track and field athlete in training for the 2020 Olympics.
Luckily for me, I didn't have to make a choice between the two. I found the right career path – and particularly the right employer – which enabled me to do both. I'm here to de-bunk the myth that working full-time and achieving high-performance results outside of work is impossible.
Athletics has always been a huge part of my life. I started out as a high jumper at the age of eight before transitioning into a triple jumper and finally a long jumper. As a junior, I represented Australia at various international events. After missing out on qualifying for the 2018 Commonwealth Games by four centimetres in the long jump, I've refocused my attention on making the 2020 Tokyo Olympics. Things are looking good: this season I've improved my personal best from 7m78cm to 8m06cm, a jump which (excitingly) places me in the mix with some of the best long jumpers in the world.
Athletes need to pay the bills
It may surprise you to learn that elite athletes often struggle to pay the bills. Financial support is limited in track and field, and sponsorships can be hard to come by. Only a few Australian athletes are able to make a living from the sport full-time without finding other work.
But working full-time is also relatively rare. Most athletes either work part-time, casually, or put off the idea of working full-time for years while they dedicate as much time as possible to training, competing, and recovery. The problem is that many employers – particularly the big corporates – work their employees (and especially their grads) to the bone. A lot of companies claim to support work-life balance, but would baulk at the prospect of hiring an elite athlete with significant demands on their time outside of office hours.
That's why it was so refreshing for me to find a supportive employer in Six Degrees Executive. I was up-front about my expectations around flexible hours from the first moment I applied for their year-long Grad Program, and Six Degrees made it clear they're happy for me to strike a healthy balance between full-time work and my commitments on the track. What's more, the organisation shows a genuine interest in my sporting journey and successes.
Applying athletics to my career
I now earn a full-time income, which removes a lot of the financial stressors that previously impacted me and my family, and now have the financial support to train six to eight times a week and to pay for recovery and physio when I need it.
I've discovered that a lot of the values and attributes I've developed on the track have translated seamlessly into my working life at Six Degrees Executive, including:
High performance: I've always approached my study and work with the same high-performance mentality I bring to athletics. This means enjoying being competitive and not being afraid of physical and mental challenges.
Falling forward: the audience watching the Olympic Games see the successes and triumphs that elite athletes achieve, but generally aren't aware of their frequent loss and failure. A strong mindset and professional resilience are therefore vital.
Avoiding burnout: Combining full-time work and an intense training program is tiring, and I'm fully aware that I run the risk of burning out. My solution has been to work and train smarter, not harder. On the track, my coach focuses on the fundamental exercises that lead to high performance but allow for a busy schedule.
I can't stress enough how important routine, structure, consistency and familiarity are to me. Being in a supportive company and having flexibility in my hours means that when I've finished work, I know what's next on my schedule. This structure offers direction in my life and keeps me moving rather than having to constantly figure out what to do next or worry about when my next shift is.
A good night's sleep is crucial for athletes and has a significant impact on performance. Lebron James, Rodger Federer and Usain Bolt all sleep for an average of 12 hours a night. I'm obviously not able to sleep that long on weekdays, but having structure with my work and training means I've been able to develop a consistent sleep pattern that aids my mental and physical recovery.
You'd be forgiven if you thought I had no social life between work, training and sleep, but I do. Again, it's all about having a well-managed schedule. Although my personal life can take some sacrifices, I still go out with friends and can enjoy a night out without too much of an impact on my training. It's comforting to know that I won't be living this lifestyle forever, so I'm happy to make some sacrifices which will lead to long-term gain … and potentially a spot on the 2020 Olympic team.
Loving my sport and being dedicated is what drives me out of bed in the morning after big competitions. The sport keeps me on my toes and inspires me to front-up at training, even after a tiring day at the office.
Finding a supportive and encouraging company has helped fuel this drive. Although it may not be applicable for all sports, track and field athletes such as myself are living proof that with a strong support team and a supportive company behind you, anything is possible.
Want to learn more about Six Degrees Executive's Grad Program?