LIFE AT
SIX DEGREES
Life at Six Degrees from the words of our people:
High-performing environment, yet lots of fun

Opportunity to learn & work with great people

Structured training

Supportive leadership 

Strong focus on mental health & wellbeing

Multiple career pathways possible
JOIN OUR
GROWING TEAM
Do you feel valued in your current business?

Does your business put your wellbeing first?

Do you have adequate resources & training to do your job well?

Does your manager support you?

Do you have a clear career pathway?
If you answered No to any of these questions, why not get in touch with our Talent team to learn more about working at Six Degrees.
WHY CHOOSE
SIX DEGREES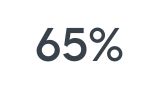 National Employee Net Promoter Score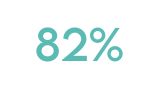 Employee Engagement Survey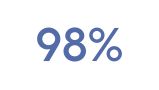 Of our people agree that Six Degrees Executive is an awesome place to work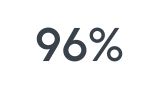 Of our people agree that Six Degrees Executive values wellbeing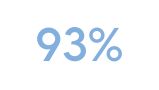 Of our people agree that Six Degrees Executive values diversity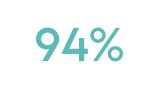 Of our people say they have confidence in our leaders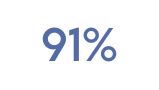 Of our people feel they belong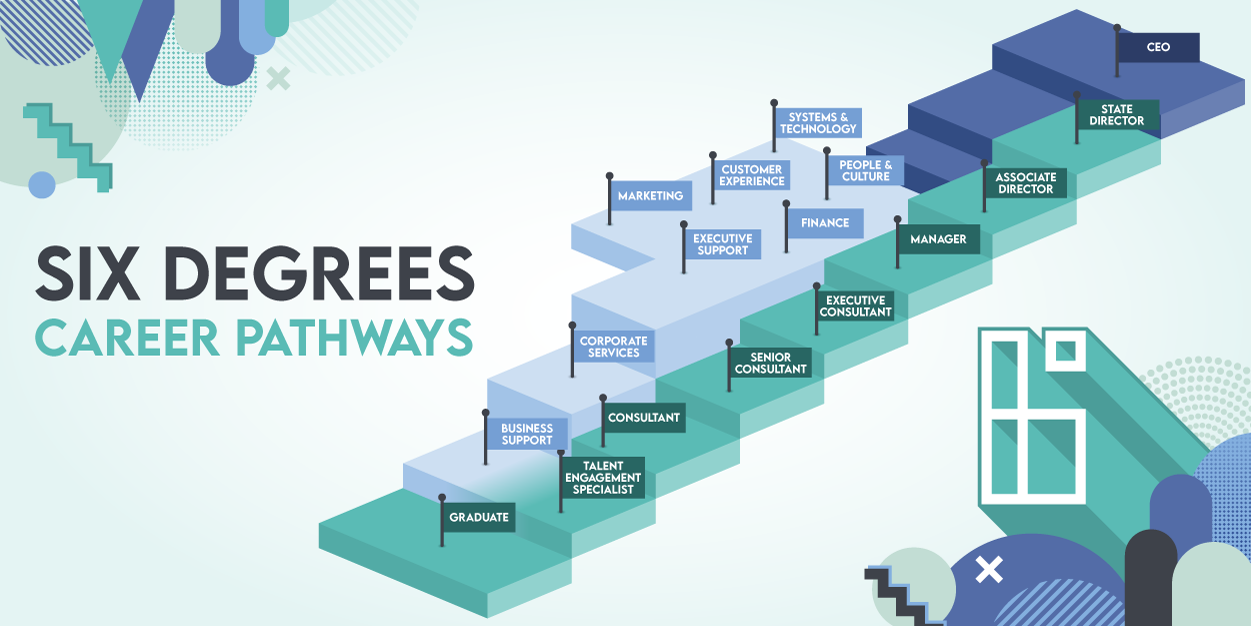 NAVIGATE
YOUR OWN PATHWAY
From the moment you join us, you'll begin an exciting, rewarding journey with many career opportunities to explore.
When it comes to development, you'll get plenty of support. Passionate, talented people are our most valuable asset, which is why everyone is provided with resources and opportunities to drive their careers, including regular reviews and planning sessions.
You can learn directly from some of the best consultants in the industry to help you achieve your full potential. Many of our leadership team have been promoted through internal opportunities.
Navigate your own course - there's more than one career pathway at Six Degrees Executive.
LEARNING & DEVELOPMENT
PROGRAM
Unleash your full potential with our exciting Learning and Development Program!
This program combines expert training, hands-on experience, and interactive learning for personal and professional growth.
Structured onboarding program

Access to over 20 Recruitment training sessions

Leadership Development Program

Self guide learning portal

1:1 Mentoring & Coaching

Formal education & qualifications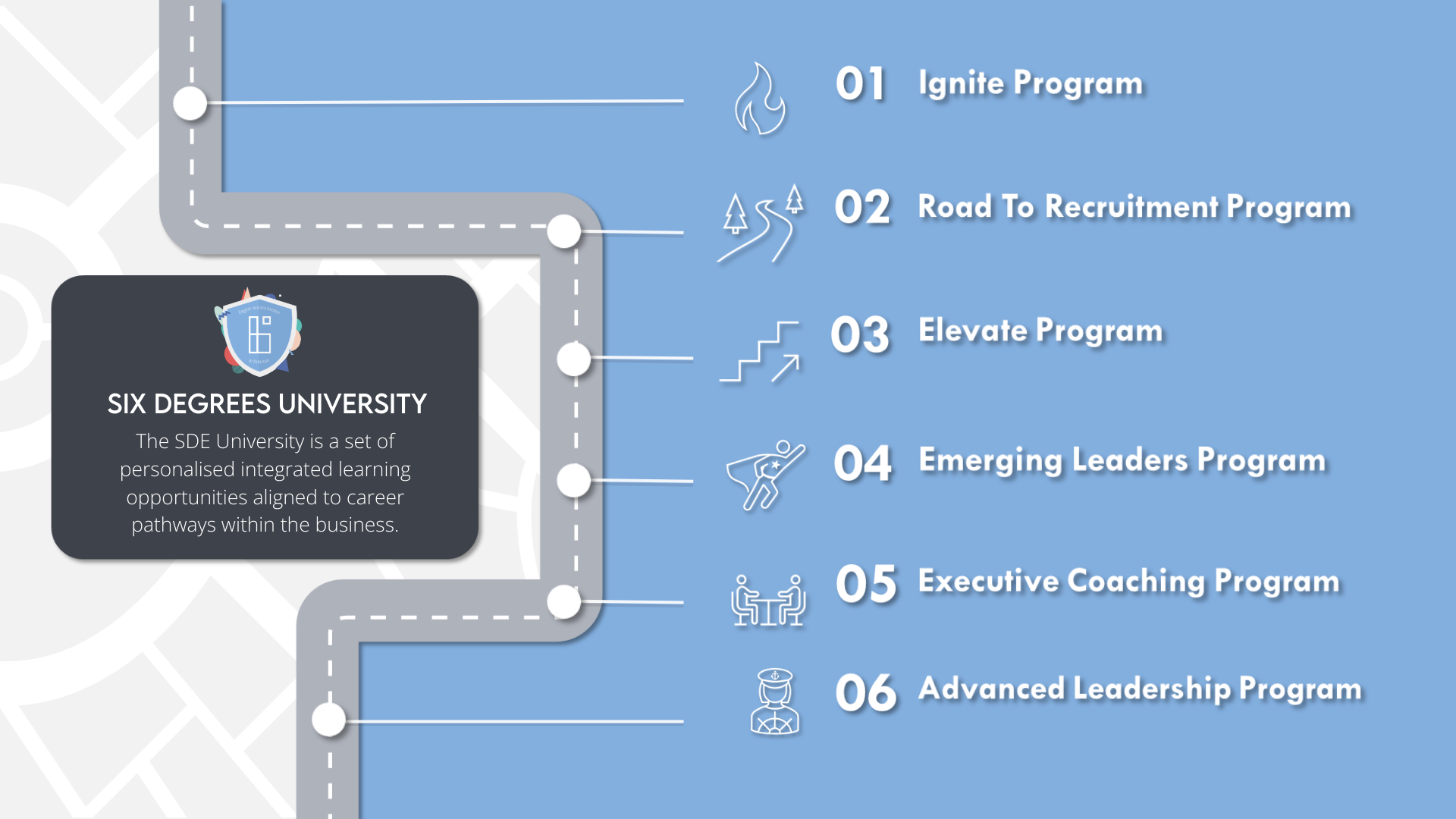 Turrbal and Jagera Country
Level 6, 51 Alfred St
Fortitude Valley QLD 4006
I would recommend Six Degrees as a place where people thrive and grow: an environment where everyone is encouraged to work smart, have fun and make a difference!

Suzie McInerney, Chief Executive Officer

The people and the standard that the business holds itself to. When you surround yourself with great people you can't help but elevate yourself.

Kristan De Sousa , Director - Queensland

Six Degrees provides great opportunities to diversify your career. You get to consult and engage with a variety of clients within the industry and work in a high-performance culture. Ultimately, the people are what makes Six Degrees amazing!

Alex Matthews, Head of People & Culture

Six Degrees has an amazing culture - we celebrate and reward success, provide fantastic career opportunities and we do what's right!

John Whitehead, Director - Victoria

Our deep industry specialisation means our service and brand enables us to have conversations with clients that other recruitment agencies don't get access to. We foster a culture of high performance with a high care factor that ensures people enjoy coming to work whilst progressing their career.

Alastair Pennie, Director - NSW

Six Degrees supports you to reach your professional potential in a highly supportive, collaborative and fun environment. The business truly cares about its employees and genuinely wants everyone to be successful professionally and personally. We enjoy working with each other and are happy for everyone's individual achievements. 

Jennifer Kenworthy, Senior Manager Sales - Consumer & FMCG

Amazing people, culture, performance & rewards. You're challenged to be the best you can be, the business also challenging itself to be the best in the industry. Market immersion, deep functional expertise & true partners enabling real consulting.

Ben Maurer, Manager - B2B Sales & Marketing

...it's one big happy family!!

Jo Krause, Manager - Digital, Marketing & Retail

I have always believed that if you want to get a lot better at something, you need to be around the people who are the best at that thing – that is one of the primary reasons I joined the business. Many years down the line I can say confidently that Six Degrees has made me a better consultant by far, and more importantly a happier and more fulfilled person.

Scott Logan, Manager – Contracting, Engineering, Technical and Operations

Six Degrees is a high-performance business that has a great supporting culture, with a commitment to providing the best place to work with a focus on developing people and their careers. Having worked for a few recruitment businesses I can honestly say that Six Degrees is a step above the rest.

Jonathan Hall, Senior Manager – Engineering and Accounting & Finance