How to develop a winning agile sales team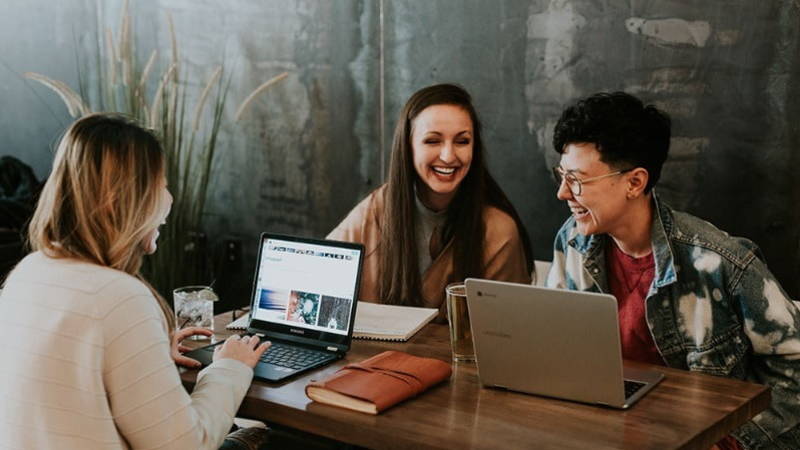 ​​
Creating an agile sales team is key to achieving a flexible and viable workforce, especially in turbulent times. So, what does it take to develop a winning sales team?
Six Degrees Executive hosted author, speaker and organisational improvement leader Brad Jeavons for a digital webinar outlining how to create winning sales teams in uncertain times. Inspired by James Kerr's book Legacy about the All Blacks rugby team's famously consistent culture; Brad was joined by Head of Sales James Poulsen from Signet to dissect and highlight the lessons sales teams can take from one of the world's most dominant sporting organisations.
Brad and James have worked closely together to create their winning sales team which has been robust enough to manage the turbulence of the last 12 months. Signet is an Australian family-owned packaging business that has operated for over 50 years and is defined by their purpose, 'Helping Australia Compete.' The organisation offers over 5,500 products to a client base of over 35,000 businesses, ranging from sole traders to side-hustles to multi-national conglomerates.
Together, they use sporting analogies to explore the critical ingredients to developing a winning sales team.
5 key ingredients for a winning agile sales team
1. Define the goal, plan and 'why'
Simon Sinek writes at length about the power of finding your "Why," and for Signet this manifested itself in the simple and powerful statement, "Helping Australia Compete." With this all-encompassing mandate, every function across the business operates with this guiding their processes and decisions. Once the "Why" is clear and defined, planning can become more iterative and focused; with teams empowered to determine the best way they can influence this in their sphere of the business.
This clarification is key; without an understanding of the playing field, few teams can succeed.
2. Define the team and individual team of play
For an organisation like Signet with such a vast and varied client base; understanding was key to creating value in order to help. Using a strong data-focused approach; the business began to map the voice of the customer and created a number of customer personas that allowed them to tailor their services at scale for maximum return.
With these personas identified and teams delegated to each of these client sectors, individual sales team members were clearly aligned on what they could actively drive in their day-to-day tasks to work towards the wider organisational goal. From here, KPIs were generated, and the leading measures were identified. With these valuable measures and client-driven service requirements in place, the business could then flexibly delegate resourcing as required.
Using a multi-tiered sales team across Business Development, Account Management, Internal Sales and Product Managers; the business ensured they allocated their strongest capabilities relative to the client value. This also allows for individuals and teams to identify where any capability gaps may lie; and most importantly, who they can reach out to in order to address the gap. This creates an environment where individuals in the team understand their role, but also when to pass the ball, and to whom.
3. Create a visual scoreboard
Visual scoreboards function as the centre for huddles/scrums/toolbox talks and function most effectively when they are kept front-of-mind for individuals and teams to gauge how their performance is driving the wider success of the business. Again, defining leading measures is key to this. Creating visual boards with input from the team will be of most value, driving further team buy-in, but also in defining the day-to-day actions that may not be visible at a macro level, yet contribute to wider success. Colour coding is critical for scoreboards to convey information at a quick glance for what can often be significant amounts of data.
Like a sporting scoreboard, a good rule of thumb is to adhere to the 1 – 3 – 10 rule:
From a 1 second glance, it is clear which team is winning or losing.

A longer 3 second look will identify the cause (for example through completion rate, missed tackles or possession).

After 10 seconds it should be clear which actions are being taken to address the situation (such as player substitutions).
4. Scrum as a team and sprint to goals
Establishing short, regular team discussions to inform individual activity provides rapid information dissemination and team learning. From these discussions, team members can adjust their plans and improve learning on an ongoing basis.
The pacing of these discussions is critical, with the focus being on signposting action points to be addressed immediately after the scrum. By standardising the format and ensuring regular team accountability, this allows the team to take ownership of the scrum and utilise it as required to enhance their day to day working.
As a manager or leader, to drive this further it is critical to ensure that other members of the team can host the scrum. These short, regular discussions allow for feedback to be passed quickly through teams and for activities to be altered accordingly. As teams briefly converse after scoring or conceding different points, team members can recalibrate in the moment. This feedback loop ensures that new initiatives can be tweaked and reiterated to further drive improvement in processes.
5. Practice and coach for performance
The focus of a manager as a coach is to develop individual capability as well as wider team culture, in order to further the prowess of the broader team. While many managers simply rely on monthly 1-1 discussions with their team, coaching needs to happen with all facets of the role; so engaging shoulder to shoulder with team members allows for more informal feedback.
Time-poor teams often find it difficult to create time for team and individual reflection; playing the tape back to identify where improvements can be made. The GROW coaching model pictured is a framework that can help facilitate this.
​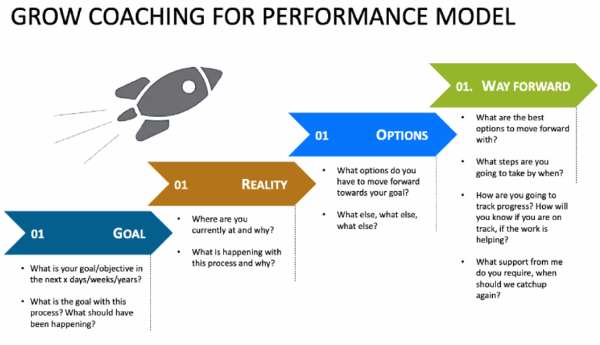 To learn more on how to create a winning sales team, watch Brad Jeavons' Agile Sales Webinar below. ​
For more from Brad Jeavons, check out his podcast and Agile Sales book: Delivering Customer Journeys of Value and Delight.
​
​