How to find meaningful work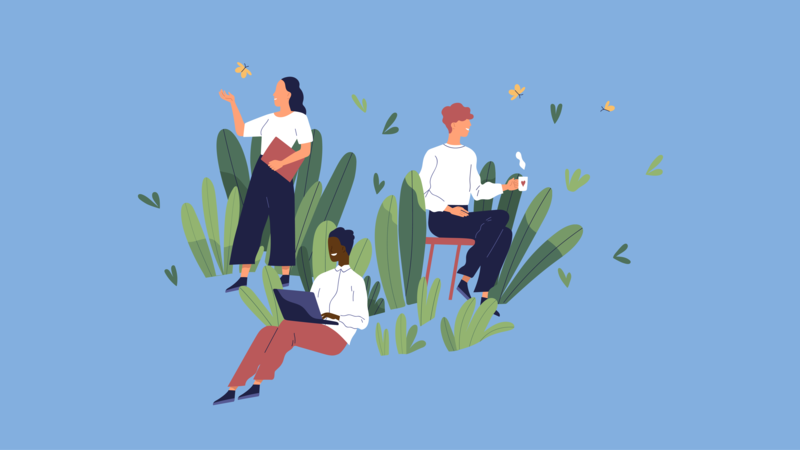 ​
If you've recently returned to work after a break, you can be excused if you find yourself wondering, what am I doing here?
The pandemic has turned life on its head, with lockdowns and isolation providing ample time to think more deeply about the reasons we wake up and go to work.
Following the shift to hybrid and remote ways of working that were normalised during lockdowns, people are now seeking a more stable, healthy balance between work and home life. And with
burnout
and stress spreading alongside coronavirus infections, it's no surprise that people are re-evaluating aspects of their lives both personally and professionally.
A LinkedIn study found that as 'the Great Reshuffle' spreads in Australia, many people are looking to not only change jobs, but to change industries-nearly 6 in 10 people are considering, have actively started, or have already changed industries.
Nearly half said they are looking to better align their careers with their interests or values, with job seekers rating a job that aligns with their values more highly than salary. These changing values indicate a reprioritisation of flexible and meaningful work over salary and status. So, what does meaningful work look like?
What is meaningful work?
More than funding a roof over your head and food to eat, work provides many people with a sense of community and social connection, status and identity, and the ability to do something stimulating that makes a positive contribution to society.
The fulfilment and sense of purpose and value gained from work is different for everyone. A lot of people are happily not defined by their work and simply view their job as a way to make ends meet. It's also important to note that meaningful work isn't always enjoyable – just ask a healthcare worker how pleasurable the last few years have been!
For many, work scores somewhere in the middle of the scale of meaningful activities– ahead of things like shopping, housework, and leisure but behind caring for family and others, volunteering, religious or spiritual activity, exercise and sport.
The aspects of work that provide a sense of identity, purpose and meaning are linked to personal ideals and values, which shift over time as things change. The impact of coronavirus helped recalibrate the lens we apply to life, with ideals and values such as community, relationships and wellbeing elevated above earning potential and work status for many people.
Why meaningful work matters
When work is fulfilling your purpose, you'll likely experience work and life outcomes 2-5 times higher than your unfulfilled peers, regardless of how much you rely on your job for purpose.
Work that is meaningful becomes a reward in and of itself, creating feelings of fulfilment and providing a sense of purpose. This type of intrinsic reward helps you feel motivated and engaged, so if you are someone who draws purpose from your work, it's even more important to make sure it's meaningful.
Organisational psychologist Adam Grant says that motivation depends on balancing what's meaningful with what's manageable. "Burnout is being overwhelmed by work. Boreout is being underwhelmed by work. Having too much responsibility is exhausting. Having too little is deflating. Idle time and pointless tasks undermine energy."
Research shows businesses reported significantly higher financial success, employee satisfaction, and staff retention where employees are engaged and have a strong sense of purpose. This indicates the benefit of meaningful work for both employees and employers alike.
6 steps to finding meaningful work
There are several steps you can take to get closer to finding meaningful work, whether it's in the search for a new job or in your current role.
1. Assess your values
To help find a sense of belonging and fulfilment at work, consider what you enjoy most about your job, what you are good at, and what type of environment and people bring out the best in you. Aligning these aspects with your passion and values will likely lead to work that is fulfilling.
Answering the following questions about your career will help you assess what matters most to you and what you should avoid in your search for meaningful work.
What did you like doing each day at work and care about most in your jobs? What type of projects, tasks and work excites or inspires you?

What don't you like doing at work? What tasks did you find tedious? What things overwhelmed or exhausted you at work? What have you regretted doing during your career?

What have you achieved and learned from work? What has been your proudest moment professionally?

What type of culture and work environment did you enjoy working in? Think about whether the culture was altruistic, collaborative, competitive, controlling, creative, or social, and how important each aspect is to you.

Did the company's values resonate with you? Which values did you find engaging and energising?

What qualities do you admire or appreciate in managers or co-workers? What style of management lets you work at your best?

How did you like to be rewarded or appreciated, both financially and non-financially?

What advice have you received that remains with you to this day (both that you agree and disagree with)?

How important is flexible work to you? What does flexibility look like for you?
Reflect on your answers and prioritise the aspects that are most important to you. Knowing your values and what motivates you will help you understand how you derive meaning from work and highlights the things you should prioritise and carve more time out for in your job. Your answers can be prioritised to create a checklist for use when finding a new job to ensure your values are aligned with an employer and role.
2. Search with your values in mind
Use your values checklist to define what meaningful work looks like for you and what you want from your next job. Putting your purpose and values at the heart of your job search will help you find alignment with your ideal company and role.
Being able to connect with an employer's purpose can help you feel that your contribution matters and you're not just another cog in the machine, especially if meaningful work is important to you. Understanding how your role connects with the organisation's strategy and how your contribution fits into the bigger picture will likely enhance your job satisfaction.
3. Find your ideal workplace
Think about the types of companies that have a purpose or strategy that aligns with your values and can support you to reach your goals. Start your research online by visiting potential employers' websites and LinkedIn pages to learn about the company. Do they mention flexibility, mental health and wellbeing, and opportunities for advancement and learning? Understand what conditions and benefits the employer offers and look to see if there are policies in place for the elements important to you.
Checking social media profiles can shed more light on how different businesses live their values and provide evidence they 'walk the talk'. You can also check out review sites such as Glassdoor to read reviews from employees.
Tapping into your professional network and reaching out to friends, former colleagues, and people in your school or university alumni who have worked for the company is a great way to find out about their experiences and gather more anecdotal insights.
4. Find your people
While different people are suited to different work environments, there is no doubt that the type of environment you work in affects the sense of meaning you gain from it. Look for insight into the company's culture to find out what it's like working there. You can use LinkedIn career pages and employee profiles to find out about the company's culture and leadership. Look at what leaders post to find like-minded people who share your passion and purpose.
5. Ask the right questions
Not everything can be found online but you can uncover a lot of insight during the recruitment process. Make sure you have questions to ask a recruitment consultant about the role and company to ensure you can find the right fit. Recruiters are a great source of information about culture, work environment, leadership style, and the social aspects of the company to make sure you only proceed with an opportunity that's right for you.
If flexibility is important to you, ask how personalised working hours and locations are. Are there policies in place and how flexibility is granted? If social aspects of work are important, consider how the flexible model allows for connection with colleagues. Have a clear picture in mind of the work-life balance you're seeking, and don't be afraid to ask for it.
During an interview, make sure you have prepared questions to ask the employer about aspects of the company and job that matter to you. Asking pointed questions helps your potential employer understand more about you and what you are looking for. After all, you are interviewing your potential employer or manager as much as they are interviewing you. Pay attention to what information your interviewer shares or doesn't share with you. Be prepared to ask second and third questions to ensure you have all the information you need.
Interviews are a good time to gain more understanding about the culture, leadership, management, and team styles. Delve deep to find out how leaders support certain ideals or values, with examples and stories to help sense check the information provided. For example, you might ask how employees are empowered and appreciated, how criticism and feedback are handled in the team, what the approach is to support work-life balance, or how success is measured.
6. Know your trade-offs
Not every job or employer will tick all the boxes on your list, so it's important to know what matters most to you. Being able to prioritise your must-haves and nice-to-haves helps prioritise your values and know what you can consider trading off to find meaningful work. Assess the minimum salary you would take when considering all the aspects of your meaningful work checklist. Good management, work culture and benefits, flexibility, and mental wellbeing can often be worth more than money when securing meaningful work.
Taking the time to understand your values and the purpose you derive from work helps you assess and align with potential jobs and employers before you sign on the dotted line.
​
Talk to a specialist recruiter

to kick start your search for meaningful work.
​