Behind our successful Brisbane growth is an incredible woman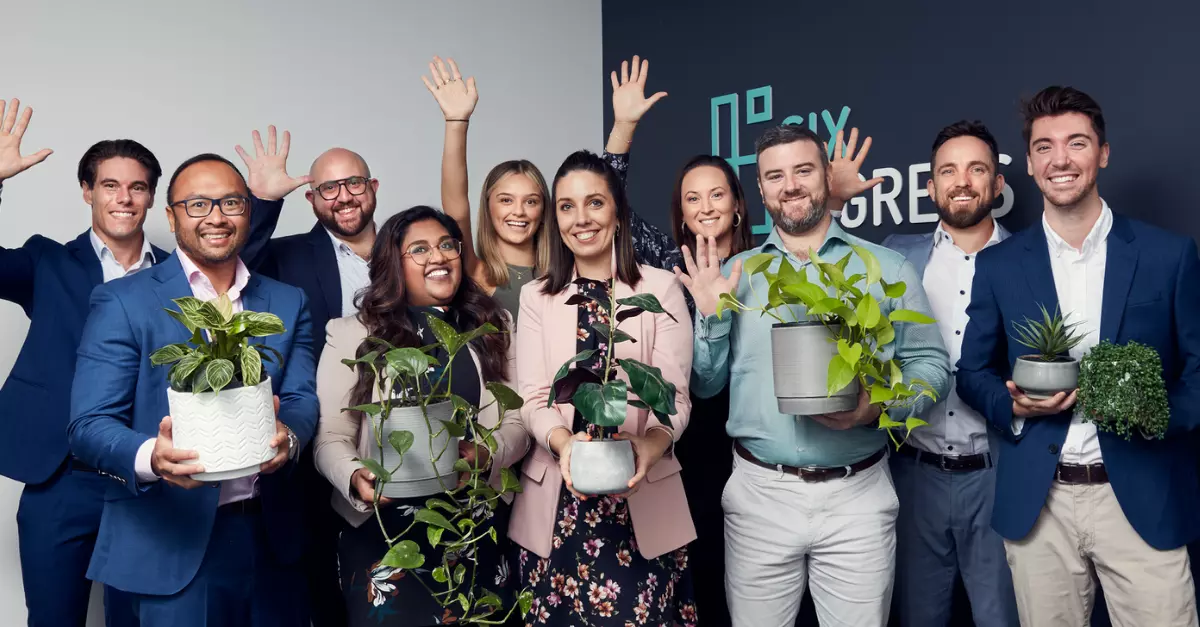 ​As we mark the 5th anniversary of Six Degrees Executive in Brisbane, we celebrate our pioneering Queensland State Director, Kristan De Sousa and shine a light on her incredible journey.
During her nearly 15 years in the business, Kristan has launched many successful initiatives, not least of which was the expansion of Six Degrees into the Queensland market.
We sat down with Kristan to find out what led her to move her family interstate to take on this venture, the challenges she faced along the way, and what the future holds for our Sunshine State business.
Tell us a bit about your early career:
Unlike many consultants out there, I didn't "fall into recruitment"! After university I worked in a B2B sales role, and while I loved the people side of sales, selling the same product day after day was not for me.
After some research I worked out that recruitment might be the perfect alternative: everything is so much more colourful and interesting and there's nothing the same about any two processes or people, and the value they can bring to a new organisation.
So, I actively sought out and secured my first recruitment gig in IT, and I've never looked back.
How did you find your way to Six Degrees Executive?
After 2 years in tech recruitment, I was looking for a change of environment. I didn't love my workplace and knew that there must be something better out there. I met with a Rec-to-Rec who introduced me to Six Degrees – and the rest is history!
At the time, Six Degrees was entirely focused on permanent recruitment and was looking for someone to launch Contracting as a new revenue stream. I threw myself into it, specialising in Supply Chain, Engineering and Operations.
Starting up a brand-new division was challenging but fun: I had to bring new concepts to the business, like a contracting-focused commission structure, and contracting-focused L&D sessions. In hindsight, I was pretty inexperienced - a baby really! I learnt a lot from it though, which helped with later roles.
What has the Six Degrees journey been like for you?
It's been eventful to say the least with 5 very different roles across different disciplines, and 3 babies thrown in the mix! Luckily for me I have enjoyed a very supportive and encouraging leadership group – and family.
I stayed in my initial role for 3 years or so and was able to achieve the top biller award for several years running, before progressing into leadership. I managed the Supply Chain team, then later Engineering before taking on the additional responsibility of driving contracting on a national scale.
Back in 2016, Suzie McInerny (now CEO) was leading Sales & Marketing for Victoria. When she went on parental leave, I took the opportunity to step up into her role, and it was on her return after 14 months that I took on my biggest challenge yet – launching Six Degrees Executive in Brisbane.
How did the Queensland move come about?
Since I was pregnant with my first child in 2015, Paul Hallam (Co-founder & Director) and I had often discussed the idea of a Brisbane move for me. I'm from Queensland, and my family is there, so it made sense.
I'm not the type of person to sit still for too long, and once Paul had planted the seed, I knew it was something I wanted to do eventually. By the time I'd had my second child and Suzie had returned from her parental leave I was ready for my next challenge and all the stars just seemed to align. It was the perfect time for my career, my family, and the company. We started working through the business plan, and 6 months later I was there and rolling.
To be honest, I loved my time in Melbourne so much, but I often wonder why it took me so long to return 'home'. When we came up to visit my sister we would sit on her deck on a Sunday afternoon, and my husband Mark and I would dream about living around the corner, rather than having to get to the airport and board a flight to get home. And now that is literally what we do. The kids love it and I love the Queensland market so much, it really has been a homecoming.
Tell us about the evolution of the Brisbane business.
On day-one it was just me, making calls from a serviced office in the CBD. By day three, my right-hand-man Jono (Jonathan Hall) had arrived, swiftly followed by our 3rd and 4th teammates. We built up to 5 people in the first 7 months, and made a profit in our first year, which was an amazing achievement, but it hasn't all been smooth sailing.
Just like when I launched Contracting for the business years ago, mistakes were made along the way, but the best thing you can do is learn from them and keep driving forward. We tried too hard to mirror the existing Melbourne/Sydney business models initially, which just didn't fly. We learnt the tough way that recruitment relationships here are deep-rooted, and it takes time to establish and build trust with the market as a new arrival!
We needed to find our own path, which we have now done hugely successfully, leveraging the support of the existing businesses, but focusing on our own areas of strength and local market preferences. Having the full support of the Board has meant we've been able to re-strategize and adapt as needed to succeed.
The last couple of years have been tough – how did you survive the fallout from COVID as a relatively new business?
COVID-19 hitting in March 2020 brought some of the hardest moments of my career: I had just come back to work full of optimism after my third baby. It was the biggest team we had ever had, with a refreshed strategy and big goals for the year, but overnight everything changed.
The pandemic was a perfect storm, and everything almost fell apart: we had people leave, the market fell to pieces, and as the main breadwinner of our family I felt broken. I wasn't sure I could keep going, but I'm so glad I persevered.
Sometimes all it takes is one moment or one conversation to turn even the darkest of days around, and for me everything all fell back into place when I met with Fabian Patterson (now QLD's Manager for Sales & Marketing). The market was starting to improve, optimism was starting to creep back in, and as soon as he had agreed to join us it felt like a new beginning.
As Brisbane reaches its 5-year anniversary, how is it going?
We are enjoying amazing success now, and I am loving seeing the team reap the rewards for all their hard work and determination over the last few years: they have been through a lot. I have used more grit in the last 5 years than I have ever had to before, and it's led us to where we are now. The team is breaking personal and business records month on month: Brisbane had our first entrant to Six Degrees' Elite performers program this year – and our first Top 10 biller nationally.
We are really holding our own in terms of overall business contribution, which is so rewarding. We have also successfully launched our Government recruiting practice in the last 12 months: a first for Six Degrees nationally, and our team of three heavy hitters is really making waves in that space for us.
A big thing for me is knowing that the team is happy. Our recent engagement score was over 90% for Brisbane, which is the highest nationally, and that's something to be proud of.
What does the future look like for Six Degrees Queensland?
Very bright! Queensland's growth is a key pillar of the national business strategy, and the board is giving us lots of support. Our team is up to 11 people and in the process of hiring three more consultants. This year will see the launch of two new divisions: Accounting & Finance and Technology, which will complement our Supply Chain, Engineering, Sales, Marketing, and Government recruitment practices which are firing on all cylinders.
Establishing our brand and reputation in the market over the last five years has allowed us to attract exceptionally talented recruiters, who are in turn helping us build further, and that makes me even more excited for what's to come.
Finally, what would your advice be to someone thinking about pioneering a new business venture?
Do it! At least once in your career you should make a bold or courageous move to build something totally new. The things you get to learn about yourself and the muscles you get to develop around building resilience are so rewarding. The highs are higher, and the lows are lower but through that comes immense personal growth. Launching Queensland has been exactly that: the most challenging time in my career, and by far the most rewarding.
And my biggest piece of advice is to celebrate every win no matter how small. Positivity and momentum breed more positivity and momentum and that is so critical in building a team in a new market.
Need recruitment services for your business? Or hunting for a new role?
Get in touch with our Brisbane team.