Six Degrees Big Day Out: Fostering Change Agility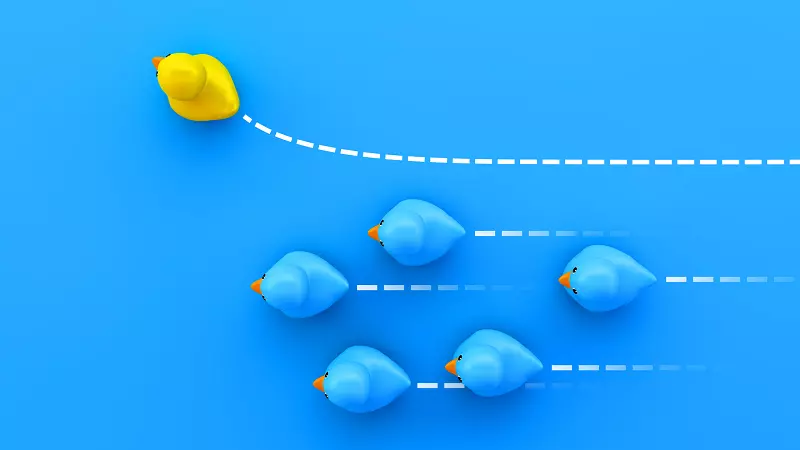 You've heard of IQ and EQ, but what is AQ? And why is it regarded as one of the most important forms of intelligence in a complex environment?
The entire Six Degrees Executive team gathered in Brisbane in late May for our biennial Big Day Out – a day of learning and idea-sharing. Initiated by the founders in the early days of the business, the concept is simple: taking everyone out of the business to work together on a business problem or opportunity.



"Big Day Out is still today an important legacy event I am proud to continue."
- Suzie McInerney, CEO
The theme of the 2022 BDO was "fostering change agility", with speakers from Future Crunch and Tomorrow Architects facilitating the day.
We share below some of the top insights from the day around change agility, AQ, building social capital, and transformational learning.
Why change agility?
The future of work is changing at an exponential rate. The pandemic accelerated trends that were already happening, from the remote working revolution to flatter team structures and increased complexity against a background of market volatility and ambiguity.
As Tomorrow Architects notes, "In this disruptive environment … unknowns far outnumber certainties".
This new reality has led to a shift in the key qualities for success. We need creative, connected, self-led workforces and leaders who can embrace rapid and ongoing change.
Future Crunch and the Adaptability Quotient (AQ)
The Adaptability Quotient refers to your ability to thrive in unpredictable environments. AQ involves flexibility, curiosity, courage, resilience, and problem-solving skills – all of which will be needed to meet a reality where new jobs are emerging as fast as older jobs are becoming obsolete.
Future Crunch believes that this century "belongs to those that are quick to read and act on signals of change". In other words, having a high AQ is the new source of competitive advantage for individuals and organisations.
A seminal article on AQ from the Harvard Business Review put it this way:
"… a company must have its antennae tuned to signals of change from the external environment, decode them, and quickly act to refine or reinvent its business model and even reshape the information landscape of its industry."
​
How can employers identify a candidate with a high AQ? Test them on their willingness to learn and experiment. Ask candidates to tell you about the last time they learnt something new, how they responded to key feedback, or to give an example of a time they had to rapidly adapt or change course on a project in response to new information.
Candidates with a high AQ will pepper their conversation with examples of learning and ask plenty of questions during the interview. Read more about how you can improve your AQ.
Tomorrow Architects: Social capital and Transformational learning
Tomorrow Architects facilitated a highly interactive session to help the team re-imagine human connection in the workplace and to unlock the power of transformative learning.
Two key concepts emerged: social capital and transformational learning.
Social capital
Social capital is the cornerstone of psychological safety in the workplace. Building social capital means creating dialogue, openness, shared understanding, and responsiveness among the team. In other words, social capital means opening up to others – which takes no small amount of courage.
If you can get it right, social capital will help your team grow resilience, create an atmosphere where people feel safe to disagree, then find their way through disagreements. This involves understanding each other's faults and being able to bounce back from an argument. Just like in any relationship, colleagues need to know when to give in, accommodate other viewpoints, and collaborate to find a way through.
Slow down, listen to others, then ask two or three questions to amplify their story.
Transformational learning
In their book Immunity to Change, authors Robert Kegan and Lisa Lahey articulated the real challenge we experience when faced with complexity:
"When we experience the world as 'too complex', we are not just experiencing the complexity of the world. We are experiencing a mismatch between the world's complexity and our own at this moment. There are only two logical ways to mend this mismatch – reduce the world's complexity or increase our own".
​
Tomorrow Architects explained that while informative learning is about learning to use new tools to cut through the world's complexity, transformational learning is aimed at building your internal complexity to match that of outside reality.
Doing so will help foster the unique human capabilities required to thrive, connect, collaborate, co-create and harness the opportunities of the future.
Simply acquiring information doesn't create transformation. You must take action and catalyse continuous growth by stepping deliberately into discomfort.
"Transformation means not a change in what you know but in how we know. It comes about when we can look at what before we could only look through." - Adapted from Robert Keagan.
​
Tomorrow Architects shared a fascinating model known as the "Octaves of adult development", ranging from Opportunists (self-centred, short-term thinkers) to Transformers (highly aware and able to thrive in complexity). At an organisational level, transformational teams seek disruptive feedback, entertain bold risks, harness the positive power of conflict, and can make independent decisions for the good of the whole.
What our team thought​
"What an amazing 24 hours! As technology redefines how we work, the skills we need to thrive in the job market are evolving too. AQ involves flexibility, curiosity, courage, resilience and problem-solving skills. I'm pleased to say that the Technology and Digital recruitment team at SDE has AQ in spades." – Katrina, Practice Lead for Technology & Digital
"A fantastic day out, meeting so many new colleagues face to face for the first time. I particularly enjoyed the session from Tomorrow Architects around adaptability/AQ. I've already been using this in conversations with my clients around talent, and in my own life!" – Caitlin, Safety & Sustainability Consultant
"Future Crunch speakers delivered some very valid points, the main one being that innovation isn't something new and big. It's all about simple improvements or placing something already familiar into a new context. The workshops facilitated by Tomorrow Architects were great, focusing on ability to deal with change as personal development. The way to focus on development is to make awkwardness or resistance a conversation point by saying "I notice that ..." – Sanne, Head of Systems
"Future Crunch and Tomorrow Architects were fantastic, but the Octaves of Adult Development were a real highlight for me! It was such a unique insight into how we as individuals and groups function, and it really enhanced my perspective. My key takeaway was that change agility is a "mindset" that you can incorporate into your day-to-day personal and professional life." – Sam, Talent Engagement Specialist
Our takeaways
To deliver lasting change, companies need to take actions that both boost performance and inspire their people:

"Action is the fundamental key to all success" – Pablo Picasso
The Six Degrees Executive team has come away from the Big Day Out inspired to:
Develop our AQ
build our social capital, and
evolve from informative to transformational learning.
From a business perspective, the key action-points of what we as individuals can do to help each other grow are:
Get Game-ready – do things differently in a rapidly evolving world – be change agile in order to thrive.
Embrace technology – not as the solution but as an enabler of personal and collective success.
Understand the power of data – and play your role in ensuring we produce great data to leverage for competitive advantage into the future.