Quitting your job? How to navigate the resignation process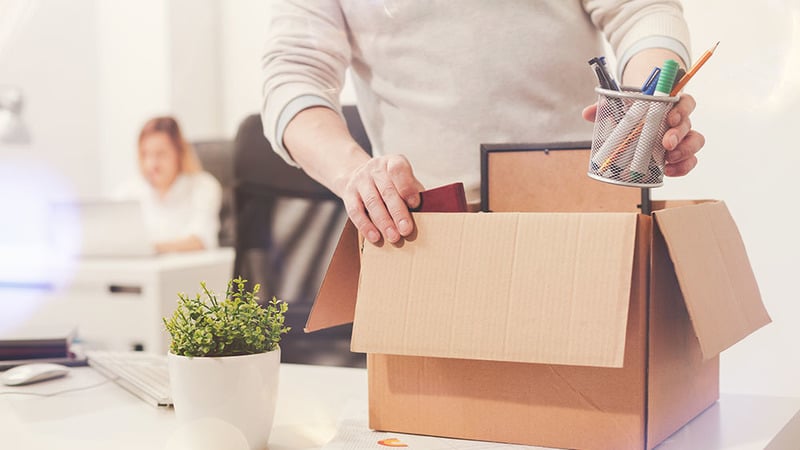 ​
Making your next career move can be both an exciting and scary time - t
here are always risks and rewards involved in quitting your job.
Whether you have reached the end of your tether in a particular job or are just taking the next step in career progression, managing the resignation process in a professional manner will help you make a smooth progression and set you up for future success.
Tips to help you manage your resignation
To help you manage your change in career like a pro, we've put together some pointers on different aspects of the process, including how to write a resignation letter, communicate effectively with your manager, and construct a thoughtful farewell email.
1. Writing a resignation letter
Putting pen to paper and drafting your resignation letter can make everything seem a little more real, which is useful if you have a case of resignation jitters. Your letter doesn't need to be particularly long, because it's much better to have a meaningful discussion in person. You should both write a resignation letter (or email) and have a discussion with your boss. Your resignation communications should:
Directly address your manager

State your decision to resign from your position

Confirm your notice period and final day of work

Express gratitude to your manager

Give a brief explanation explaining your decision to resign

Offer support and help during your notice period and the handover process

An example of a resignation letter:
Email subject: Resignation: [your name]
Dear [manager's name],
Please accept this letter as formal notification that I am resigning from my role as [job title] at [company name]. My last day with the company will be on [date].
I would like to take this opportunity to thank you for the support and guidance you've given me over the past [x] years. You've trusted me with some huge responsibilities, provided me with some amazing opportunities for career growth, and taught me so much that I will carry forward in my future career.
I've really enjoyed my time at [company name] and will be very sad to leave, but I feel ready to take on a new challenge and broaden my experience.
Please let me know if there's anything I can do in the next month to make this transition as easy as possible.
I wish you all the best for the future and look forward to staying in touch for many years to come.
Kind regards,
[your name]

2. Having an open conversation with your manager
When it comes to handing in your resignation, there are two very important things to remember:
Honesty is (almost) always the best policy

Your manager should be the first person to know
Once you've made the decision and written a letter of resignation, the next step is to schedule a one-to-one meeting with your manager. Ensure this meeting takes place before sharing the news with any of your colleagues – it is disrespectful and unprofessional for your manager to learn of your plans via the office gossip grapevine.
Think about your key discussion points and objectives ahead of the meeting.
What are your reasons for leaving now and what are your long-term career plans?

Is there a counteroffer that could persuade you to stay or is your mind firmly made up? If the driving factor for your resignation is the desire for a better compensation package, it's worth doing some advanced research to find similar job openings offering higher salaries to people with your skillset.
Your manager will appreciate you being honest and sharing your rationale, but there is no need to go into too much detail to justify your decision-making process. Be calm, respectful, positive, and brief, and try to resist making personal jibes about your manager or other colleagues.
Wrap up the conversation by expressing gratitude to your manager for all they have done to support you and the opportunities you've been granted and commit to doing whatever you can to make this transition period, and your handover, as seamless as possible.
3. Writing a farewell note
Extraordinary circumstances aside, it is best to leave your existing employer and former teammates on good terms. You can't predict when you might stumble across them again in the future or in what capacity – whether it's at an industry-specific networking event, or as a future colleague, referee, or manager.
To ensure you part ways on a positive note, you should take the time to write your colleagues a thoughtful farewell email or note, which should:
Be succinct and professional (i.e. no lengthy personal anecdotes or singling out of specific people)

Showcase a little of your personality without being too emotional

Express gratitude for the opportunities you've been given and everything you've learned

Specify the date of your final day

Include your personal contact details so you can stay in touch
You should use your discretion about who to send your farewell note to – consider if it is appropriate to send a company-wide email or if it will be better to send it to your immediate team. Send out your farewell email to anyone relevant prior to your last day to give people the opportunity to respond and wish you well.
Farewell email template:
It's a good idea to customise your farewell email to reflect your circumstances, but here is a sample email format you can follow:
Email subject: Goodbye from me
Hi everyone,
As you may know, tomorrow [date] will be my last day at [company].
I want to say how much I have enjoyed my time here, working together and getting to know you. I've gained a lot from my experience here over [x] years and thank you for your support over this time.
If you want to stay in touch, you can reach me via [email], [phone], or [LinkedIn].
All the best,
[first name]


​
Looking for a new job? Contact a recruiter near you to discuss current opportunities in your field.