Resume advice: tips and tricks from recruiters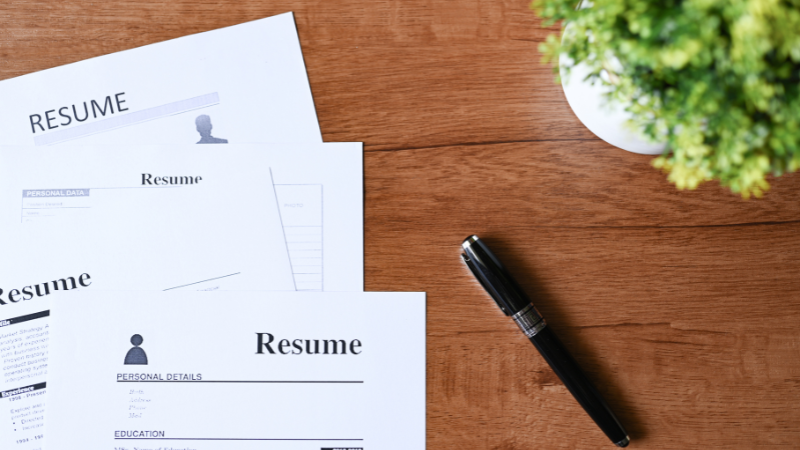 Your resume is an opportunity to showcase your skills and talents, so you want to make sure it clearly articulates who you are and your value proposition.
There's a lot of conflicting advice out there about what to include and what not to include on your resume, so we asked some of our recruitment consultants for their best tips and advice when it comes to writing a standout resume. Here's what our recruiters had to say about your resume…
Include a personal summary
With recruiters and hiring managers busier than ever before, your personal summary is one of the most important parts of your resume. The purpose of a personal summary is to encourage the recruiter or hiring manager to read on for more information. It should paint a picture of who you are, your professional skills and career achievements, and why you're ideal for the role you're applying for. The best practice is to tailor your summary to the role you're applying for and keep it short – no more than three to four sentences.
Illustrate your achievements
Recruiters and hiring managers want to know what your achievements are but rather than just listing your achievements, make sure you give context to those achievements by illustrating them with real examples.
What not to do:
Key Achievements
- Won the award for best campaign
- Achieved good open rates on emails
How to list your achievements:
Key Achievements
- Developed a fully integrated lead generation campaign across social, web, and email. Generated 1500 qualified leads and was awarded the '2018 Most Effective Campaign'.
- Developed and executed a targeted email campaign that achieved a 42% open rate and 22% click-through rate. This was 20% above the company average.
Consider the STAR method: Situation, task, action, result. Set the scene with where and when the situation took place, provide context on the task you had to complete and the actions you personally took on with your team to complete it. Ultimately leading to the result where you quantify your achievement to show the caliber of what was successful.
Choose substance over design
Although you might be tempted to dress up your resume with fancy graphics, logos, pictures, and graphs (marketers I'm looking at you), it is a mistake to do this at the expense of detailing your experience. Spend less time on making your resume look pretty and more time on providing tangible details of your key responsibilities and achievements.
When sending or uploading your resume to a job application, we recommend submitting it as a PDF document. This ensures that the formatting remains the same, whether it is opened on a laptop, mobile or any other device.
Be specific
Employers are often looking for candidates who have experience with specific software programs or tools, so always include details about your technical proficiency in various applications. Keep in mind that these skills and qualifications are typically in acronym format for keyword searching. Highlighting your technical skills is a great way to differentiate yourself from your competition. When you list your qualifications, only include those you have completed or be specific about where you are at in completing them.
HINT: Be sure to keep your LinkedIn up to date with your resume when you apply for roles. You can also upload your resume to LinkedIn to do the work for you.
Dates matter
The little details do matter, such as including the months as well as the years that you started and finished jobs. If you write 2017-2018 how will the hiring manager know whether you worked at the organisation for two months or two years?
Also, ensure that the formatting is consistent. For example, if you abbreviate the month and write the year in full, make sure you do the same throughout (i.e. Apr 2017 – Nov 2018).
If you have a career break or gaps in your career, be sure to include this in your resume.
Photos don't matter
Most recruiters and hiring managers will advise you not to include your mugshot on your resume; it's not about how you look, it's about your relevant skills and experience. Plus, if they're really interested to know what you look like they can always look you up on LinkedIn!
Stick to no more than four pages
Who started the rumour that a resume should only be one page? Most hiring managers recognise that you can't effectively get across your skills, achievements and who you are in just a page. Ideally, if you've been working for 10 years or more, three to four pages is appropriate. You need to provide some context to the roles you have listed and be able to articulate what you were tasked with delivering when you stepped into the role and what you achieved during your tenure. Giving context shows how your experience can translate to other businesses in similar situations.
Make sure your resume focuses on your relevant and recent key responsibilities and achievements. Highlighting roles you undertook more than 20 years ago is simply not relevant, so make sure you omit any outdated and irrelevant information.
Share your hobbies and interests
Finally, put a little personality into your resume so people know you have a life outside of work. Including your hobbies, passions or interests is a great way to differentiate yourself and make yourself memorable. It's also an opportunity to build rapport with your interviewer, especially when you share common interests. Try to avoid listing these. This is a good opportunity to add to your personal summary or as a conclusive summary at the end of your resume.
Personal details and references
Keep in mind you should be aware of data breaches and privacy interests when writing and submitting your resume. Employers and recruiters want to know where you are located but don't need to know your full address unless you are presented with an offer. Simply including your suburb is sufficient information.
When providing references similar procedures apply. Simply note "references available on request" as your references may have changed if the recruiter has an old resume or you are wanting to provide more relevant references.


Download our job-winning resume template, designed by recruitment experts.