The Great Resignation – Your Survival Guide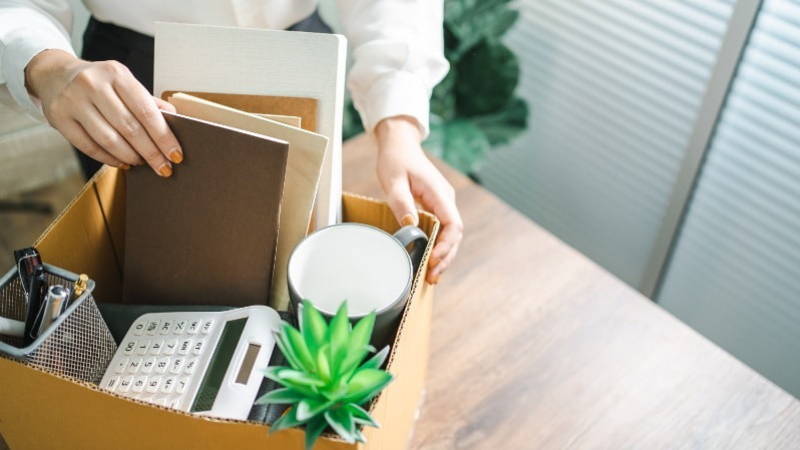 ​"The Great Resignation" is a term recently coined in the U.S. to describe the millions of people expected to quit their jobs in the wake of the COVID-19 pandemic.
Research from Microsoft, for example, suggests that as much as
40% of the U.S. workforce
is thinking about resigning in 2021.
Australia's employers could also be heavily impacted with two in five Australians preparing to leave their current roles within the next six months and 15% already actively looking for new opportunities. Data from Slack's Future Forum Pulse survey corroborates this, revealing that as many as 59.9% of Australian workers are considering finding a new role within the next twelve months.
What is driving this mass exodus and how can your organisation best prepare for it?
What factors are driving "the Great Resignation"?
In the past 20 months, your workforce may have endured a lockdown or two, a sudden shift to remote working, increased workplace pressures, the threat of unemployment, long-term separation from friends and family, homeschooling, and the fear of COVID-19 itself. So perhaps it's no surprise that these unprecedented, and often highly traumatic events, have led the majority of people to question their long-term goals and priorities.
As the Australian economy scrambles to make a post-pandemic recovery and employers begin thinking about the return to business-as-usual (BAU), your employees may be asking themselves the following questions:
Am I truly happy and fulfilled in my current role?

Am I willing to forgo flexible working options and return to working in the office full-time?

Is my employer supporting my needs, accommodating my personal life, and facilitating a healthy work-life balance?

Am I giving too much of myself to work?
It's difficult to know the full extent to which Australian organisations will be impacted by the Great Resignation. However, in today's highly competitive job market it's definitely best to plan for the worst and hope for the best. Here are five ways you can prepare your organisation and hold on to your top talent.
5 ways to prepare for the Great Resignation
1. Recognise the value of your top performers
Before taking any pre-emptive action to shield your organisation from the impact of the Great Resignation, you need to determine what you have to lose and how hard you're willing to fight for it.
Start by identifying and investing time with those employees who have the business skills that matter most to your organisation at this time, whether it's niche technical knowledge or a core group of soft skills.
Consider the cost to your organisation if you were to lose your top performers and have to replace them. This can give you an idea of how much you should be investing in retention strategies for your top talent.
2. Carve out development plans for your top performers
If you want to hold on to your organisation's most valued employees, you'll need to show them just how valued they are via meaningful incentives.
It figures that your top performers will be some of the most ambitious within your workforce, and so they'll likely appreciate learning and development (L&D) opportunities and clarity about their future progression. Post-COVID, many employees are concerned that their careers could stagnate and are eager for reassurance about when they will receive their next pay rise or promotion. If you can demonstrate that there is room for growth within your organisation and are willing to make investments in the necessary L&D resources, you'll stand a better chance of retaining your best talent.
If you can't commit to pay rises and promotions at this time, think about other ways to support your workforce. Mentorship programs or leadership opportunities, for example, may also be of value to those employees who need to feel as though they are continuously moving forward in their careers. At the very least, make sure you are listening to your top talent and helping them to plan for their futures.
3. Fine-tune your EVP
Developing a meaningful Employee Value Proposition (EVP) is crucial when it comes to attracting and retaining your top talent.
In a post-COVID-19 world, there's little doubt that your organisation's EVP requires little reworking to account for the major shifts in workplace culture including flexible, hybrid, and remote working.
A willingness to negotiate and compromise with your workforce will prove crucial in the coming months. Now more than ever, people want to work for empathetic employers who will willingly accommodate their needs. If you're reluctant to let someone schedule a weekly meeting around the school pick-up or insistent that employees come into the office three days a week, you can expect your organisation to fall victim to the Great Resignation, and you'll also struggle to attract new talent.
Shockingly, a recent survey of 25 countries conducted by The Adecco Group found that Australian workers are the most burnt out in the world – ahead of Italy, China, the U.S., and the UK. It's presumed this is the result of the recent second wave of lockdowns, which has severely tested people's mental and emotional wellbeing. Employees feeling especially strained and unsupported during this time will consider resigning even if they don't have alternate employment options.
4. Communicate your organisation's long-term plan
In the same way that your employees desire clarity about their career options, they also want honesty when it comes to your organisation's long-term objectives.
COVID-19 has forced businesses to rethink their priorities when it comes to factors like risk mitigation, employee wellbeing, and service offering. As a result, professionals across multiple sectors have quickly adapted to take on different, or additional, responsibilities to help their employers navigate the unusual circumstances in which we find ourselves.
But what happens further down the line? Will your business operations revert to pre-pandemic levels? Do you have plans to expand or downsize the company? What are your top business priorities and objectives over the next few years?
Following a period that has brought so much uncertainty, the workforce will appreciate you being open and transparent about your organisation's future plans.
5. Celebrate success
Although many employees have really valued the shift to remote working, it has left some feeling un-unified and undervalued.
A digital employee experience company called Firstup surveyed more than 23,000 employees across the UK, the U.S., Germany, Benelux, and the Nordics and found that people are more unhappy in the workplace since the outbreak of the pandemic. As many as 56% of employees said they don't feel valued in their role, while only 30% of deskless workers believe that their employers are actually listening to them.
Whether your workforce will continue to work remotely, return to the office full-time, or embrace a hybrid model, it's important to foster a collaborative and communicative culture in which all employees feel seen, heard, and celebrated for their work.
Consider implementing initiatives that recognise and reward your people for good work and think about how to best empower them. If employees don't feel that they are making meaningful contributions, being challenged in their day-to-day work, and advancing their careers, they are more likely to feel demotivated and underappreciated.
​
Struggling to find top talent for your team?

Get in touch with Six Degrees Executive today.