The working from home debate is still not settled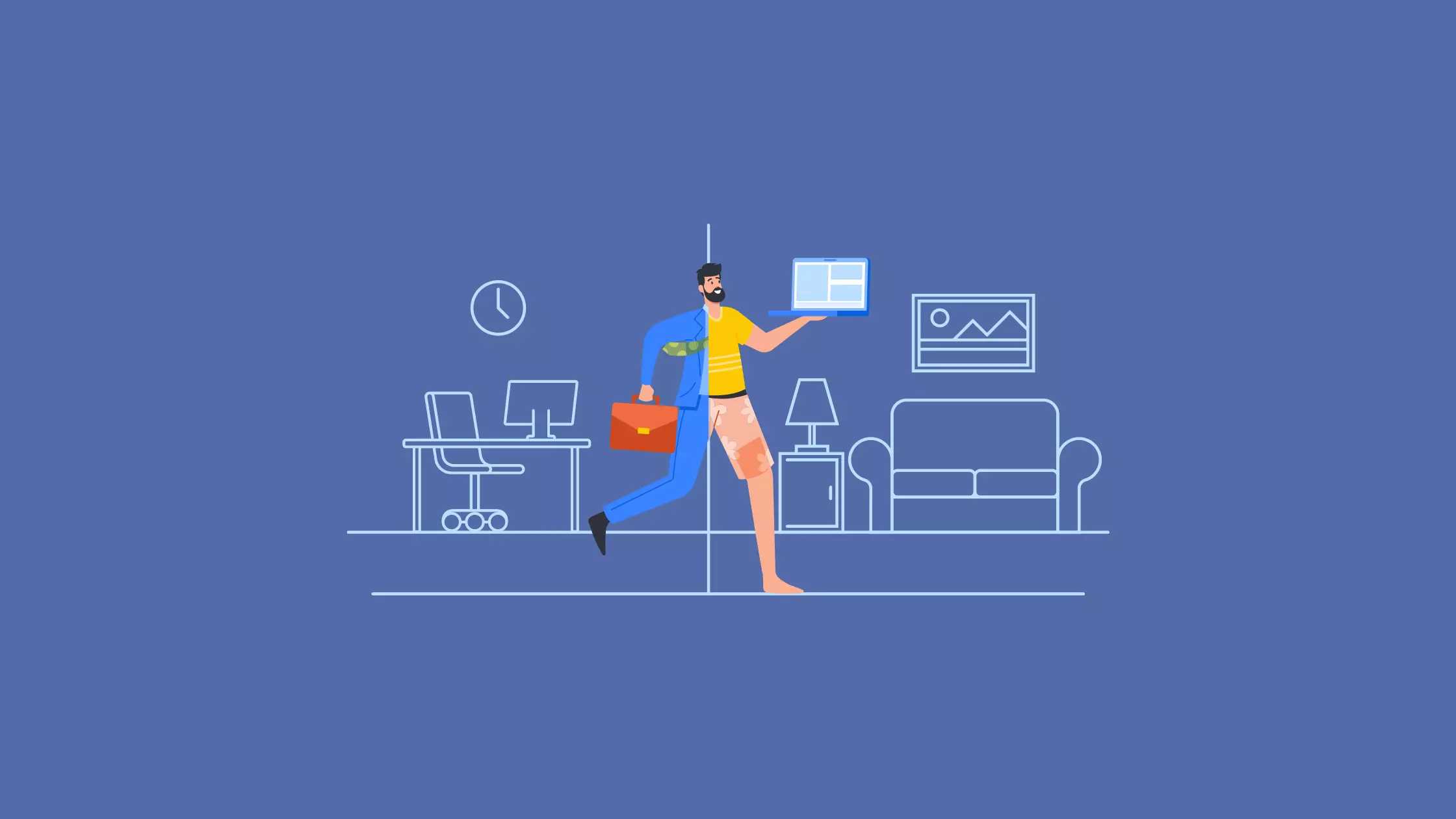 At the height of the pandemic, it was common to see headlines declaring that the way we work had changed forever. From the New York Times to the BBC, reporters were extrapolating the benefits and impacts of a remote-working future while a string of well-known tech organisations including Twitter, Atlassian and Airbnb announced the switch to permanent remote work for their employees.
But this trend was by no means universal. It wasn't long before we saw an uptick in back-to-the-office rhetoric, with political leaders including Scott Morrison and Boris Johnson exhorting workers to return to the office. AT&T and Apple announced back-to-the-office policies (generating significant pushback from employees), Google cut the pay of remote workers, while JPMorgan Chase's CEO, Jamie Dimon, said remote working "doesn't work for people who want to hustle, doesn't work for culture [and] doesn't work for idea generation".
It's a complex and ongoing debate, but one thing is clear: an all-or-nothing approach will not work for employers or employees. That is why many businesses have come to a compromise in the form of a flexible, hybrid-working model.
Below, we explore some of the considerations companies should be aware of when formulating their remote-work policies.
A candidate-driven market
It's no secret that Australia (and much of the rest of the world) is currently experiencing a candidate-driven market. This gives talent greater leverage when negotiating the terms of their employment, including salary and flexible working. Data from SEEK revealed that over half of workers expect a hybrid model of working in 2022 and The Age reported this week that more than a third of Australians would "immediately quit their jobs" if their employer announced they had to return to the office full-time.
This is putting pressure on employers who would prefer their team to be in the office every day, as top talent gravitates toward opportunities in more flexible organisations. In-office perks such as ping-pong tables, an office gym or barista coffee may not be able to compete with the benefits that flow from eliminating the daily commute, getting more sleep and working flexible hours from the comfort of home.
The productivity debate
There's no clear answer yet on whether working from home is better or worse for productivity. For every reputable study that reports remote workers are more productive, there is another that warns that remote working leads to less productivity than office-based employment. Encouragingly, some economists believe remote work is fueling economic growth and is unlikely to lead to a GDP-level drop in productivity. Australia's new Federal Government appears to be on-board, with Workplace Relations Minister Tony Burke pledging immediate action to ensure stronger access to flexible working arrangements.
What we can agree on is that everyone is different. Extroverts, for example, are more energised in the company of other people and may struggle to remain motivated and productive when working alone. Some people work best when they are closely managed, while others thrive when provided with autonomy and trust. For many workers, flexible hours provides the chance to shift their workload into timeslots during which they are most productive, such as early in the morning or late at night when their kids are asleep.
Supporters of office-based work also point out the importance of face-to-face time with colleagues for collaboration and idea sharing, in-person mentoring for young people and building a positive culture through social activities. However, an ever-growing number of remote collaboration technology tools is available to make just about anything possible remotely, from team activities to wellbeing initiatives.
Hybrid working models offer the best of both worlds
Alan Claire, Senior Manager, Engineering and Operationsat Six Degrees Executive, says the relationships he built online during lockdown felt superficial.
"They just didn't feel real", he said. "It was only when the lockdown ended and I was able to meet my colleagues face to face and share some time together, that I really felt like I was becoming part of the team. So, now that we have the choice, I guess I would have to say that based on my experience there is a need for people to meet in an office environment … but also having focus time away from the office is also a great benefit.
"Here at Six Degrees, we are blessed to have a lot of very experienced consultants and leaders. Just by being in the room and hearing how they tackle difficult conversations with clients and candidates really accelerates your learning. Being in a room full of energy and enthusiasm helps you to maintain your own positive energy and momentum. On the flip side, I still value the focus time that working from home allows as our jobs require us to spend time researching, sourcing and interviewing. All of these tasks are better in peace and quiet. So for me, hybrid is definitely the way forward as long as you understand the learning opportunities that you forgo by not being around your peers and learning by osmosis."
Lauren Madden, Manager, For-Purpose & Communications Practice at Six Degrees, says her team predominantly works around a 3/2 day split (onsite vs remote):
"This empowers them to manage their time around specific tasks, as well as maintaining a connectedness with the team and the broader business," says Lauren. "We've established a good rhythm of remote and face-to-face connection times using the technology channels or physical space available to us. We are often in together on Tuesdays and Thursdays, but the specific days are by no means compulsory. Members of the team have commented that they feel more empowered, trusted and productive. All and all, I've found hybrid to be the perfect model for us."

Remote onboarding
Used intelligently, technology has a critical role to play in improving the onboarding journey for remote employees. Six Degrees Executives' Employee Experience Coordinator, Henry Smith, was tasked with creating flexible ways of working to ensure new starters are engaged and comfortable.
"The idea was to leverage technology to create a collaborative and seamless onboarding process where as soon as new starters sign the contract, they are immediately taken on the onboarding journey," explains Henry. "We created multiple automations that are triggered at various touch points of the onboarding journey that allow us to engage and communicate as much as possible with our new starter before they enter our doors or log on online. The aim is to provide a tailored onboarding journey which enables consistency and stability and promote the ability to work from home.
"We also built an online Learning portal that allows employees to learn and collaborate with their colleague either at home or in the office. The idea is to leverage technology to encourage training, productivity, mobility, and collaboration," he says. "Having automations at various touch point of the onboarding journey means that's the right people are connecting with our new starter at the right time."
Lauren has onboarded two team members in the hybrid model, one being fully remote during a string of lockdowns in Melbourne.
"In the early days it was an adjustment," she admits. "I was particularly conscious of meeting the learning style needs of each individual, ensuring I was adapting to how that could be positively or negatively impacted through remote learning. Ultimately, I found it comes down to preparation, planning and being quite purposeful around creating an ecosystem of support through content, tools, technology and people. Technology enablement and up-to-date training resources have been key for both the trainer/manager and new starter to ensure they are both set up for success."
Lauren recommends regular check-ins each day in the first couple of weeks before moving to weekly meetings as they settle in to allow space for each individual to feel comfortable to raise any concerns with their learning journey.
"And finally, it was important to be honest with the new starters that this was a new way of training and onboarding, and that we were navigating this together," says Lauren.
Mental health, trust and belonging
Mental health came to the fore during the COVID pandemic as many workers struggled with loneliness, isolation, boundary setting and anxiety. While the wellbeing of remote workers should still be monitored closely, it's important to note that there was nothing "flexible" about working remotely during Australia's periods of lockdowns when people could not leave their homes. Post-pandemic hybrid working policies are about offering choice and finding the right balance for every individual.
As Six Degrees Executives' Head of People and Culture, Alexandra Matthews explained in a previous blog post, the ability to trust one's team is the number-one attribute of remote managers.
"Learn to step back," she wrote. "Remote environments can be particularly challenging for micromanagers. Asking to review every communication or phoning workers to check in several times a day wastes time and fails to build trust. Managing people on outcomes rather than hours in front of the screen will build more trust and satisfaction for everyone."
Just as importantly, employers need to foster a sense of belonging to ensure that the team culture does not suffer due to remote working. This can be achieved by making time for human connection, focusing on motivation, reward and recognition (with the help of technology), listening to team ideas and feedback, and setting aside special days for the team to come together face-to-face, such as an annual conference.
While the working from home debate is not yet settled, all signs point to hybrid working as a positive compromise in the near to mid-term.
Stay flexible, be prepared for future disruptions (such as a dramatic technological shift or another pandemic), and remember that there's no one-sized fits all approach. Listen to your team to discover the framework that will work best for your unique business.